If you want to remodel your kitchen but have limited space to work with – don't panic.  Your kitchen may be short on square footage but that doesn't mean you have to make sacrifices to design and functionality. Kitchen renovations shouldn't just be about cabinets and hardware. They should also be about maximizing the space you have so you're getting the most out of your new, redesigned kitchen.
There are many innovative ideas and design features that can make even the smallest kitchen feel much larger. By incorporating some of the design ideas described below, you can have the kitchen of your dreams regardless of the space available.
Focus on Your Layout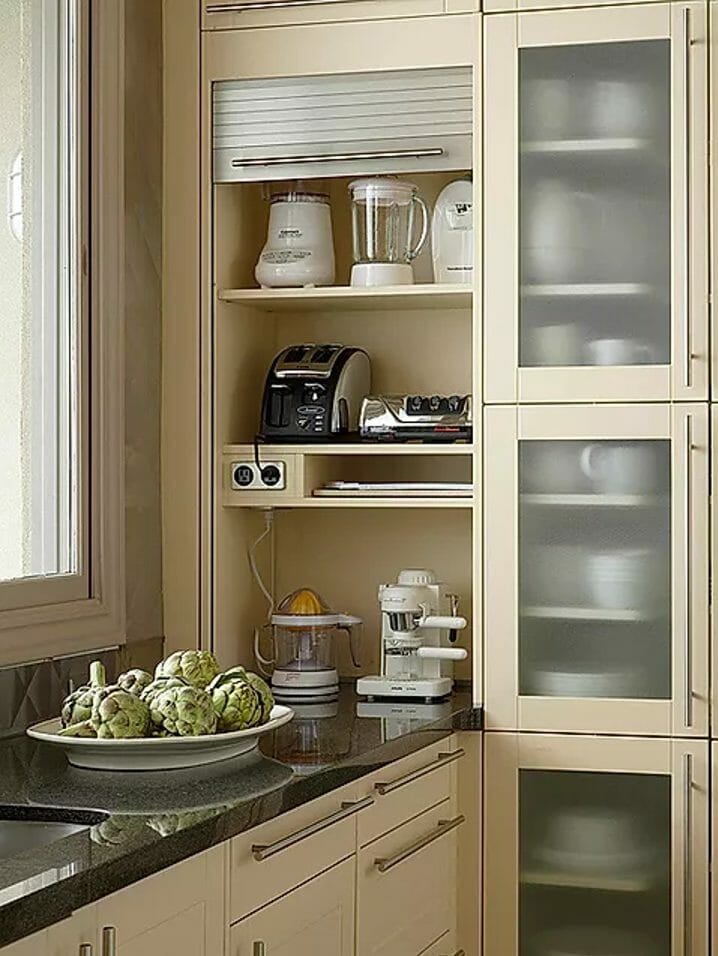 The right floor plan can make even a small kitchen seem large. Think about traffic flow so you can minimize the likelihood of people getting in each other's way. Consider who uses the kitchen and how they use it.
Then, consider cabinet placement. Give special consideration to cabinets that are going to minimize the space a sink and countertop consumes.
Another thing you can do to maximize space is to stack cabinets all the way to the ceiling in order to maximize storage space in an otherwise small room. Just bear in mind this will make it more difficult to reach things on upper shelves, especially if you have height-challenged family members and no room for a stool.
If you can keep your kitchen free of clutter, you might also want to consider open storage. Open shelving makes your kitchen look more spacious.
If your kitchen still feels claustrophobic, consider removing a wall.  Removing a wall affords the sense of enlarged space, adding light and a feeling of openness. You won't increase the overall square footage of your kitchen, but it will feel like you did.
Play With Colors
Cabinets are the centerpiece of a new kitchen, large or small. Installing white or light-colored cabinets will help make your space seem larger. Lighter, natural wood cabinets like maple can also result in a brighter, larger feeling room.
When designing a small kitchen, the color of your walls, appliances, countertops, and backsplashes are central to enhancing your kitchen's look. They can also influence the perceived size of your kitchen.
Consider painting your ceiling the same color as your walls – this will draw your eyes upward and make the room feel taller.
Incorporate Glass
One of the oldest, and simplest, tricks to "expand" your kitchen is to incorporate glass.  Using mirrors strategically in a kitchen will lighten up the look of the space, giving it a feel of depth and openness. Another design idea is to use glass instead of a solid wood panel in one or more of your cabinet doors. Being able to see inside your cabinets enhances a feeling of spaciousness.
Slim Down Your Appliances
Prioritize which appliances are most important to you. You may have to give up on that double oven you always dreamed about for added cabinet space. If you want a larger refrigerator, you may have to sacrifice your range size. The key is to make smart appliance choices that fit your needs.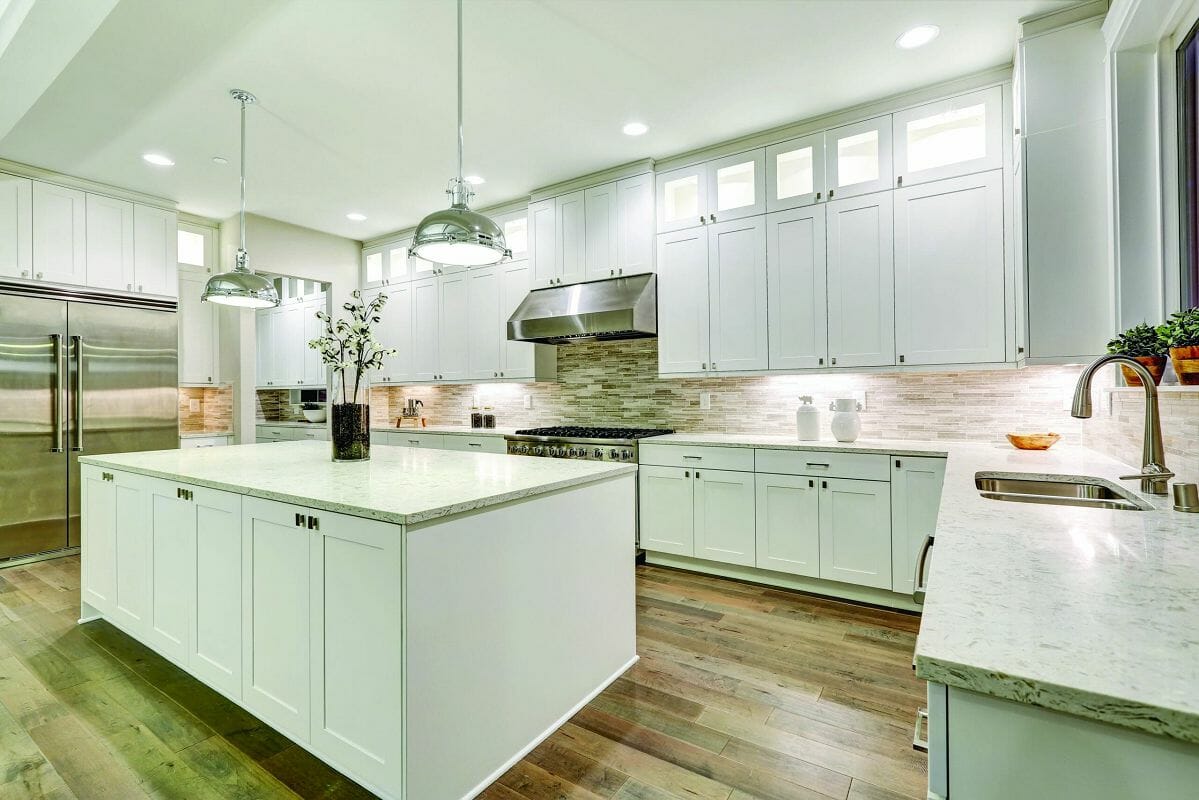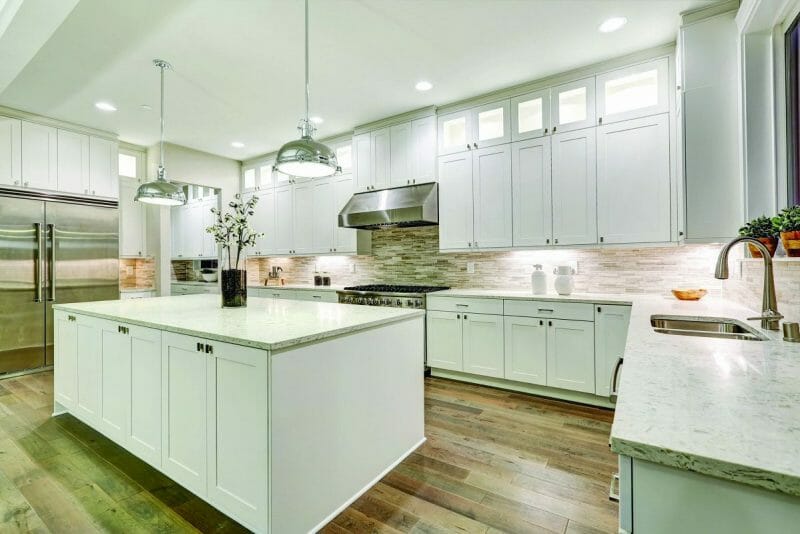 Install Lighting
Brighten up your space with lighting. Installing pendant lighting in an eating area can brighten up your entire kitchen.  Add incandescent lighting underneath your upper cabinets or as spot lighting over them. Consider adding light fixtures under your base cabinets so it shines down on the recessed space under cabinets, the toe kick.
By adding lighting, you visually expand your kitchen.
Add Natural Lighting
Natural light enlarges any space. You may have limited options with respect to the overall size and placement of windows in your kitchen but, if you do have a choice, bear in mind that natural light can change the atmosphere and perceived size of your kitchen.
Get Creative … And Have Fun
Design creative solutions to your small kitchen that match your kitchen's ambiance and lifestyle.  Consider installing a seating bench with built-in storage. If stationary seating doesn't work, think above moveable seating. Smaller benches with casters can be stored under your table giving you more space to move around the room. Adding a creative finishing touch like this a fun way to maximize space and gives you an opportunity to make the kitchen feel unique, special, and all your own.
So have fun, and let us know if you have questions.